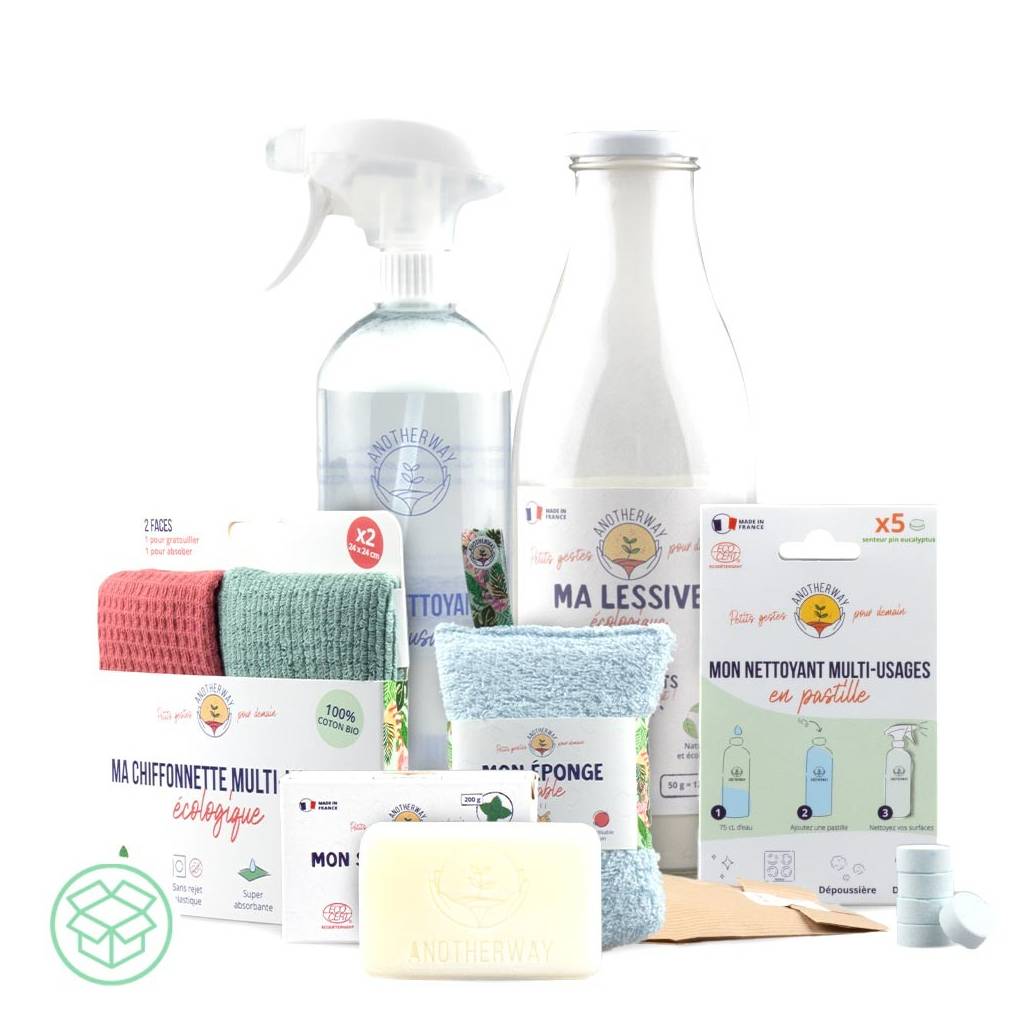  
Zero waste house box
From : Essence Box
€37.26
Tax included Get it delivered tomorrow. see conditions
Save 10%
With this box, go to a 0 waste house!
The ultimate home cleaning kit!
Laundry, dishes, cleaning from floor to ceiling, this box covers most of the needs for your home. It will allow you to make your ecological household products in no time: homemade products to maintain your home. Composed of cleaners made from natural products, with which you can: do your laundry yourself, make a multi-purpose household cleaner yourself, do the dishes but you will also have all the useful accessories to complete the most common tasks. recalcitrant. Zero waste, the products in this box are also refillable, fill them up again and start again! Making cleaning products has never been easier with this DIY kit!
So you can do:
Your detergent thanks to the 1L glass bottle containing 50g of ecological detergent
Cleaning your surfaces using the spray bottle, multi-purpose tablets and this set of 2 washable cloths
Your dishes with the washable sponge and ecological dish soap.

Ecological detergent
To prepare your laundry, nothing could be simpler:
Add 1L of hot water to the bottle containing the 50g of washing powder. Add the water in 2 or 3 times and stir each time. The water should not be boiling. Do not fill to the top.
Shake for 30 sec. Take a short break, then start again for 20 seconds until the preparation is well blended.
There you go! in a jiffy your laundry is ready! Allow to cool before use.
Once your laundry has cooled, you can, if you wish, add 10 drops of essential oils of your choice (lavender, grapefruit, etc.).
Shake the bottle well before each use.
If you want to know more, go to the product sheet.

Multi-surface cleaning
To prepare your multi-surface spray:
Fill your spray with 75cl of hot tap water. Please do not use boiling water. Place a tablet inside. Wait a few minutes and your product is ready!
You can clean all your surfaces, floors and even your windows. For this, use the washable cloths.
1 cleaning product to clean everything!!!
The smell of this cleaner is very light but it is enough to clean your surfaces. This changes cleaners with an overly aggressive smell!
It is nonetheless effective.
With these 5 tablets, you will have up to 5 months of use.
If you want to know more, go to product sheet.

Ecological tableware
To do your dishes with the ecological solid soap and the washable sponge:
Moisten your sponge and solid dish soap
Rub your sponge with dish soap
Do your dishes as usual
Once your dishes are done, let your dish soap dry.
Your dish soap lasts about 3 months (at the rate of 2 average dishes per day).
Customers who bought this product also bought:
4 other products in the same category: