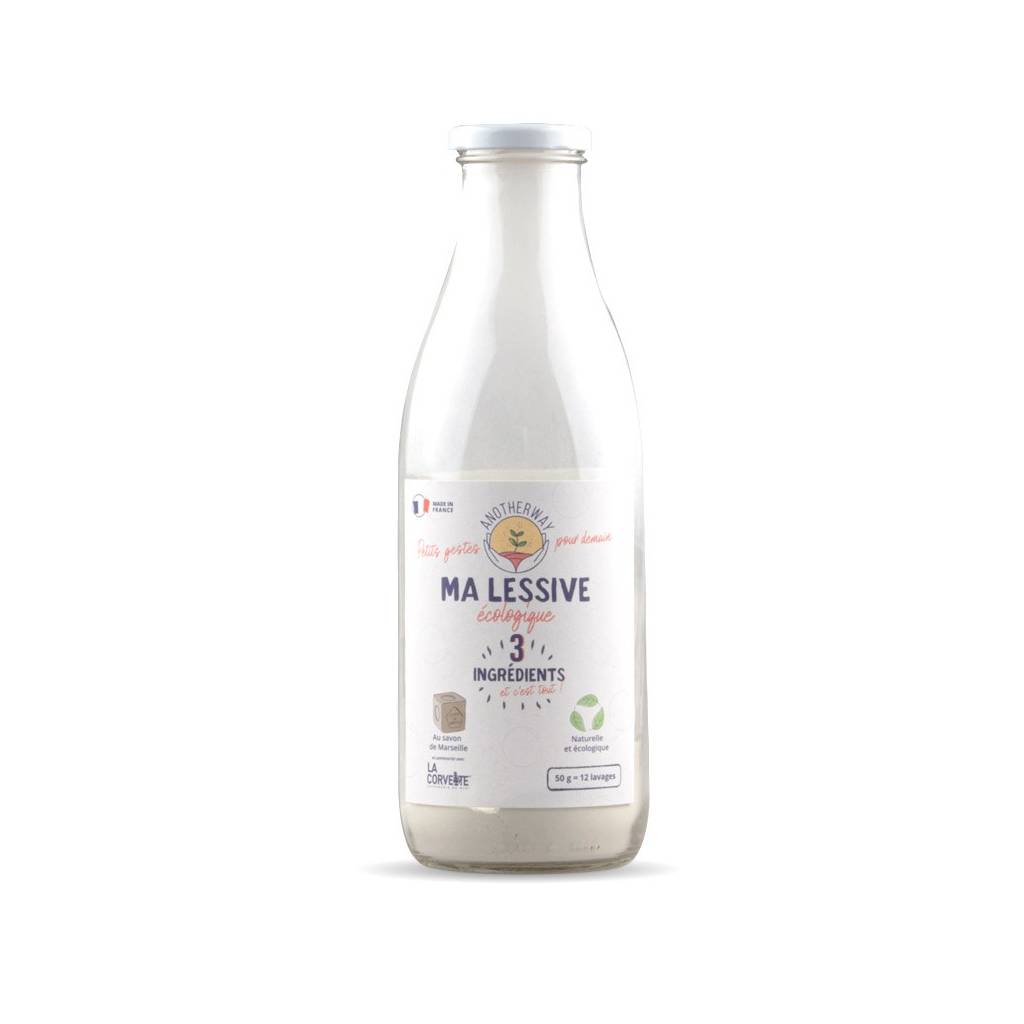  
The small + product :
Ecological
100% French
100% Natural

No single-use plastic container

Ready in 2min top time

Effective at 30°C

Odorless

Made in France
My Ecological Laundry
An ecological laundry detergent to prepare yourself in 2 minutes, would you like it? Just add water and your laundry is ready. No more buying plastic detergent cans that contain mostly water. We suggest you buy only the powder and for the water you have this at home! In addition, this detergent is made in Marseille in a reintegration workshop.
This 1L glass bottle contains 50g of detergent inside to perform 12 washes. Once your bottle is finished, you can of course reuse it and buy the detergent refills in kraft bags.
Once prepared, your laundry will smell a good smell of Marseille soap, no perfume is added to the powder. If, however, you want to add a scented touch to your laundry, nothing prevents you from adding up to 10 drops of essential oils.

Composition:
This ecological detergent in powder form consists of only 3 ingredients, 100% French and 100% natural!
Genuine Marseille soap from La Corvette from the Savonnerie du Midi
Baking soda
Soda crystals

Preparation:
It couldn't be simpler:
Add 1L of hot water to the bottle containing the 50g of washing powder. Add the water in 2 or 3 times and stir each time. The water should not be boiling. Do not fill to the top.
Shake for 30 sec. Take a short break, then start again for 20 seconds until the preparation is well blended.
Your laundry is ready in no time. Allow to cool before use.
Once your laundry has cooled, you can, if you wish, add 10 drops of essential oils of your choice (lavender, grapefruit, etc.).
Shake the bottle well before each use.
Once your laundry is done, use our refills and start again.

Usage:
For light laundry or lightly soiled laundry, pour 80ml into your machine
= 1 coffee cup
For heavy or heavily soiled laundry, pour 160ml into your machine
= 2 coffee cups

Precautions for use:
Keep out of the reach of children. Do not swallow. We advise you not to smell the powder too close, you risk sneezing.

My contribution for the planet:
By buying this bottle of ecological detergent, avoid buying disposable plastic cans and reuse your glass bottle with the refills.
Zero waste: The Marseille soap used in this detergent comes directly from La Corvette by La savonnerie du Midi. The powder that is created naturally when soap is made is recovered and used in this detergent. Nothing is wasted!
Data sheet
Product

laundry
Do you want more informations ?
Customers who bought this product also bought:
4 other products in the same category: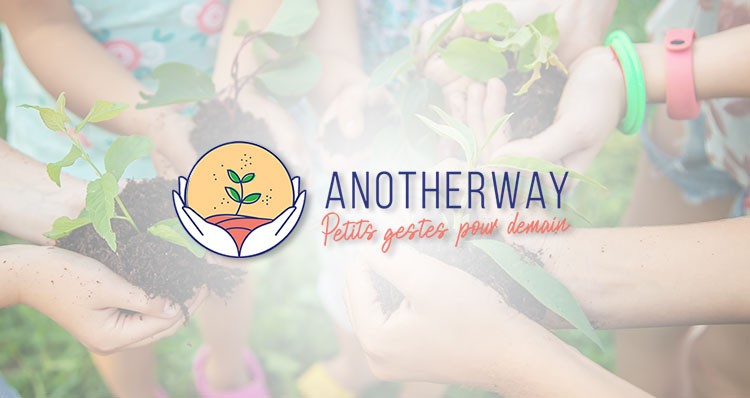 . Anotherway started in 2018 in Marseille thanks to Samuel. This native of Brittany has always wanted to carry out a project that has meaning and an imp
Read more