For interior
Whether you don't have a garden or want to have your aromatic herbs close at hand, this selection of indoor pots will please you.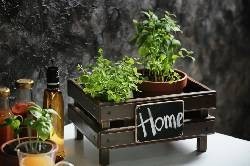 Parce qu'on a pas tous un jardin, il n'y a pas de raison qu'on ne puisse pas apporter un peu de nature sur le balcon ou dans la maison.
Nous vous proposons des produits d'intérieur afin d'apporter une petite touche de nature à votre maison.
Cultiver vos légumes ou vos fruits BIO sans avoir de jardin : c'est possible !