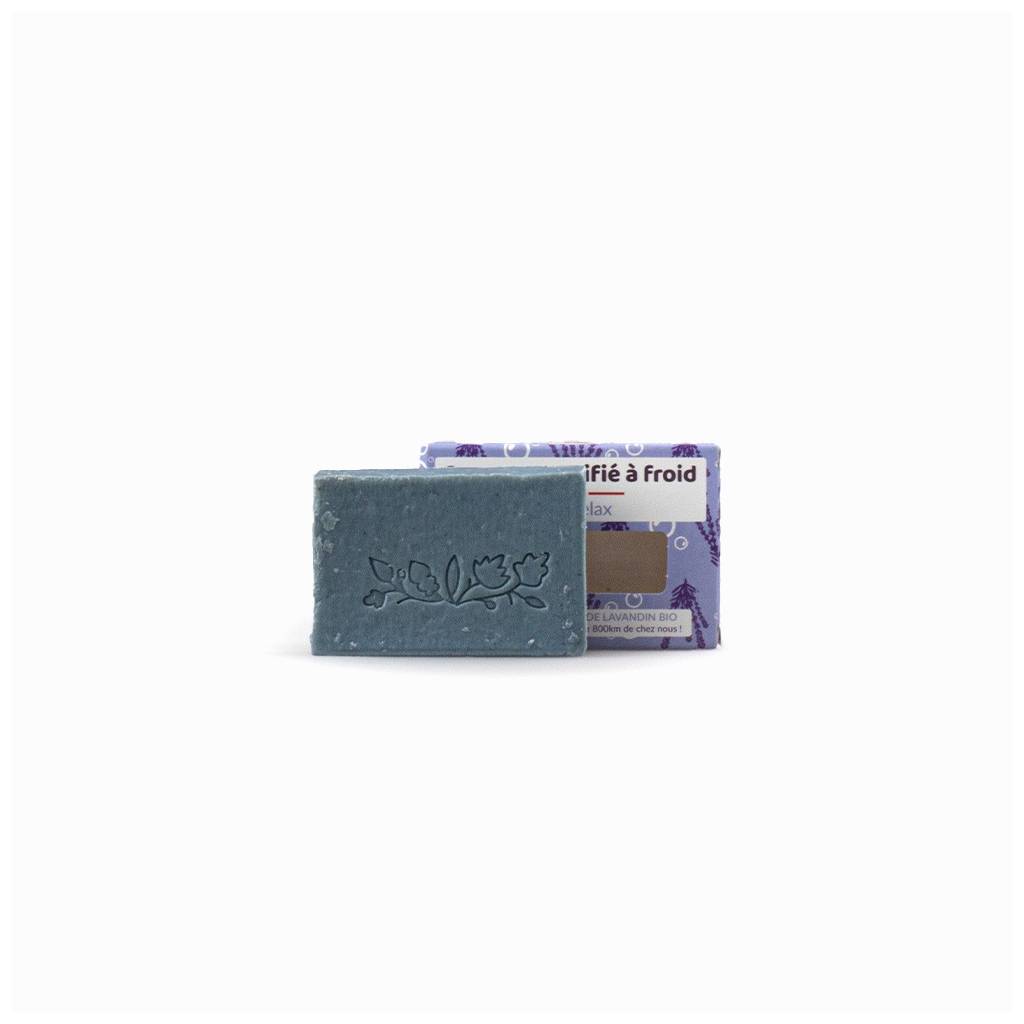  
The small + product :

Relax Cold Saponified Soap
From : Lamazuna
Relax cold saponified soap
This cold saponified Relax soap is made from 100% natural ingredients. Thanks to calendula, it soothes all skin types. Treat yourself to a moment of relaxation with its sweet scent of lavender.

How to use it?
Wet your soap to create a thin creamy layer and lather your body directly with the soap or with your hands.
This soap lasts 1.5 months for daily use.

To ensure a long life for your soap, do not leave it in standing water. Store it on a soap dish or in a storage jar.

Precautions for use:
We do not recommend using this soap on your face. It has been specially designed for the body.
For external use only. Keep out of the reach of children.
Do not use this soap on children under 12 years old. Do not use if allergic to any of the ingredients.
PAO (Period After Opening): 12 months.

Focus on the ingredients:
Saponified olive oil (sodium olivate): deeply cleanses the skin and gives a creamy lather
Saponified sunflower oil (sodium sunflowerseedate): cleanses the skin and gives a creamy lather with more bubbles
Glycerin (glycerin): product of the saponification reaction. Brings slipperiness to the soap and increases its moisturizing power
Sunflower oil (Helianthus annuus seed oil): nourishes and softens the skin thanks to its vitamin E and fatty acids
Olive oil (olea europea fruit oil): protects and nourishes the skin thanks to its many vitamins (A, D, E and K) and fatty acids
Essential oil of lavender (lavandula hybrida oil): has calming and relaxing properties
Oily calendula macerate (calendula officinalis flower extract): has anti-inflammatory, protective and soothing properties
Indigo lady's-eye extract (polygonum tinctorium leaf extract): vegetable and local dye to obtain a blue soap. Warning, the indigo extract present in this soap can lead to a risk of staining wood or bathroom joints, for example.
Water (aqua): product of the saponification reaction, much of which evaporates over time
Limonene, linalool, geraniol: allergens naturally present in essential oils.
INCI list of ingredients: SODIUM OLIVATE**, SODIUM SUNFLOWERSEEDATE**, AQUA, GLYCERIN**, HELIANTHUS ANNUUS SEED OIL*, LAVANDULA HYBRIDA GROSSO HERB OIL*, OLEA EUROPAEA FRUIT OIL*, CALENDULA OFFICINALIS FLOWER EXTRACT*, POLYGONUM TINCTORIUM LEAF EXTRACT*, LIMONENE, LINALOOL, GERANIOL
*Ingredients from organic farming
**Processed from organic ingredients
68.5% of the total ingredients are from organic farming
100% of the ingredients are of natural origin
Capacity: 100gr

My contribution for the planet:
Soap avoids that many plastic bottles of liquid soaps are thrown in the trash.
It is zero waste: the packaging is made of recyclable cardboard and once your cleaner is finished, it leaves no waste.
It also lasts longer than a liquid equivalent.
Data sheet
Biological origin

Oui

Product

Zero Waste Hygiene

Vegan

Yes
Do you want more informations ?
Customers who bought this product also bought:
4 other products in the same category: