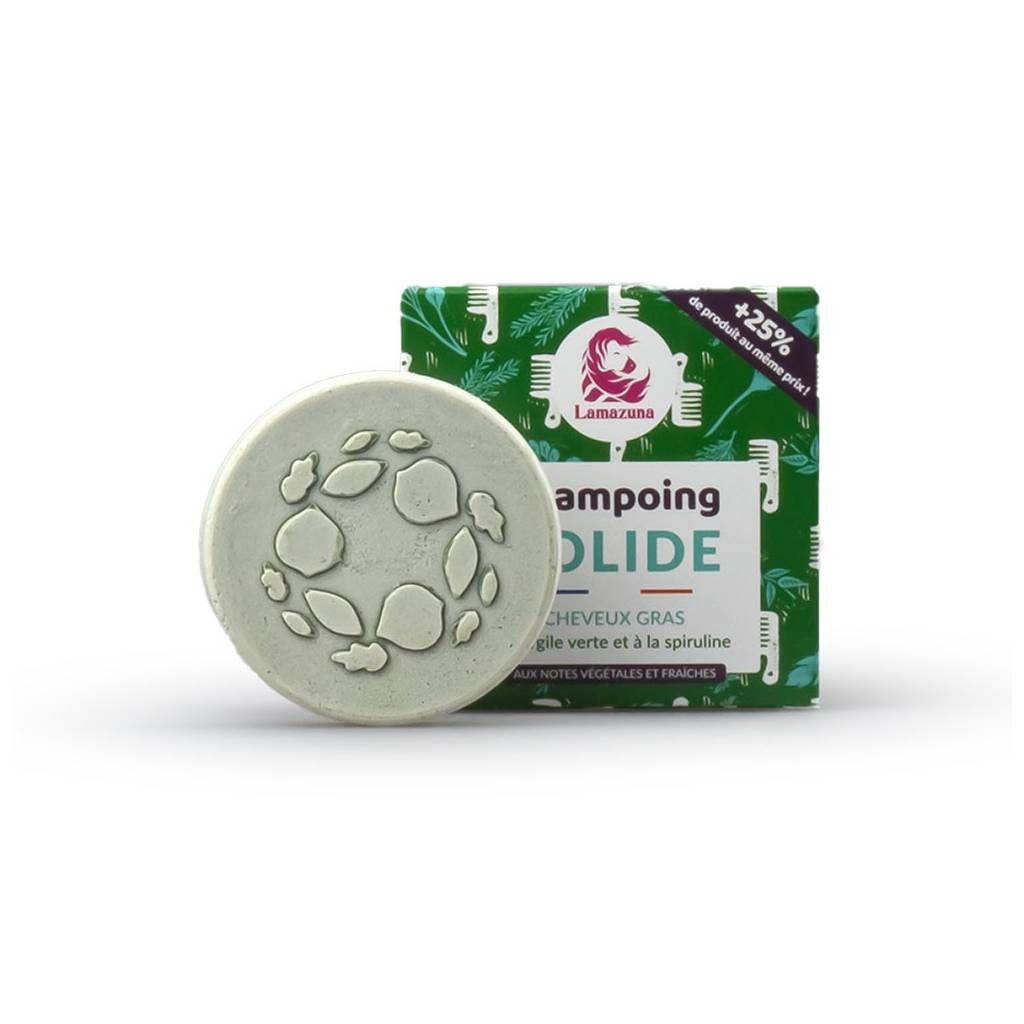  
The small + product :
Economique
Objectif zéro déchet
Durée de vie de deux mois en moyenne.
Pratique pour les voyages !

Solid shampoo for oily hair
This shampoo, suitable for oily hair, is a mixture of spirulina and green clay. It brings you a real moment of freshness in the shower. Designed without essential oils, it will not attack sensitive scalps and its formula enriched with green clay allows your hair to become greasy less quickly. Its puck shape facilitates its application and its duo of surfactants will provide a more generous foam than with other solid shampoos.
At the first use, if your hair feels a little dry, it's normal. It takes time for your hair to get used to the solid shampoo. After several uses, you will no longer have this feeling.

How to use it?
Wet and apply with your hands or directly on your scalp. Indeed, its puck shape allows you to facilitate direct application. Massage your scalp to generate foam and rinse as with a classic liquid shampoo.
Warning: Avoid mucous membranes and eyes otherwise it will sting!

Storage advice:
To ensure a long life for your solid shampoo, do not leave it in stagnant water. Store it on a soap dish or in a storage jar.

Precautions for use:
Without essential oils, this shampoo is perfect for pregnant and breastfeeding women. Do not use in children under 5 years old. Be careful, this little pebble is not to be chewed. Do not use if allergic to any of the ingredients.
PAO (Period After Opening): 12 months.

Focus on the ingredients:
Spirulina powder French (spirulina platensis powder): it brings strength and vitality to the hair thanks to its proteins which activate the synthesis of keratin (essential element of the hair fiber)
Blue/green clay (Montmorillonite, illite, kaolin): rich in trace elements and minerals, it is oxygenating and purifying for your scalp. Ideal for oily hair of French origin
Sunflower oil (Helianthus annuus seed oil): nourishes and protects the hair
Sodium cocoyl isethionate: surfactant that cleanses the hair without attacking the scalp
Coco-glucoside: a secondary surfactant that boosts the foam provided by sodium cocoyl isethionate
Fresh fragrance with vegetal notes
Palmitic and stearic acids (palmitic acid, stearic acid) are fatty acids derived from olive oil which make it possible to formulate a solid shampoo, they provide hold and durability to the product.
Tocopherol: anti-oxidant of plant origin (Vitamin E), which helps prevent vegetable oils from going rancid. It is contained in sunflower oil.
INCI list of ingredients: SODIUM COCOYL ISETHIONATE, HELIANTHUS ANNUUS SEED OIL*, STEARIC ACID**, PALMITIC ACID**, KAOLIN**, MONTMORILLONITE**, ILLITE**, PARFUM**, COCO-GLUCOSIDE**, SPIRULINA PLATENSIS POWDER**, TOCOPHEROL**, AQUA**.
*Ingredients from organic farming, i.e. 21%
**Ingredients of natural origin, i.e. 94.4%
Without essential oils and sulfated surfactant.
Capacity: 70ml

My contribution for the planet:
The solid shampoo prevents many plastic bottles of liquid shampoos from being thrown in the trash.
It is zero waste: the packaging is made of recyclable cardboard and once your shampoo is finished, it leaves no waste.
It also lasts longer than a liquid equivalent.
Data sheet
Product

Zero Waste Hygiene

Vegan

Yes
Do you want more informations ?
Customers who bought this product also bought:
4 other products in the same category: