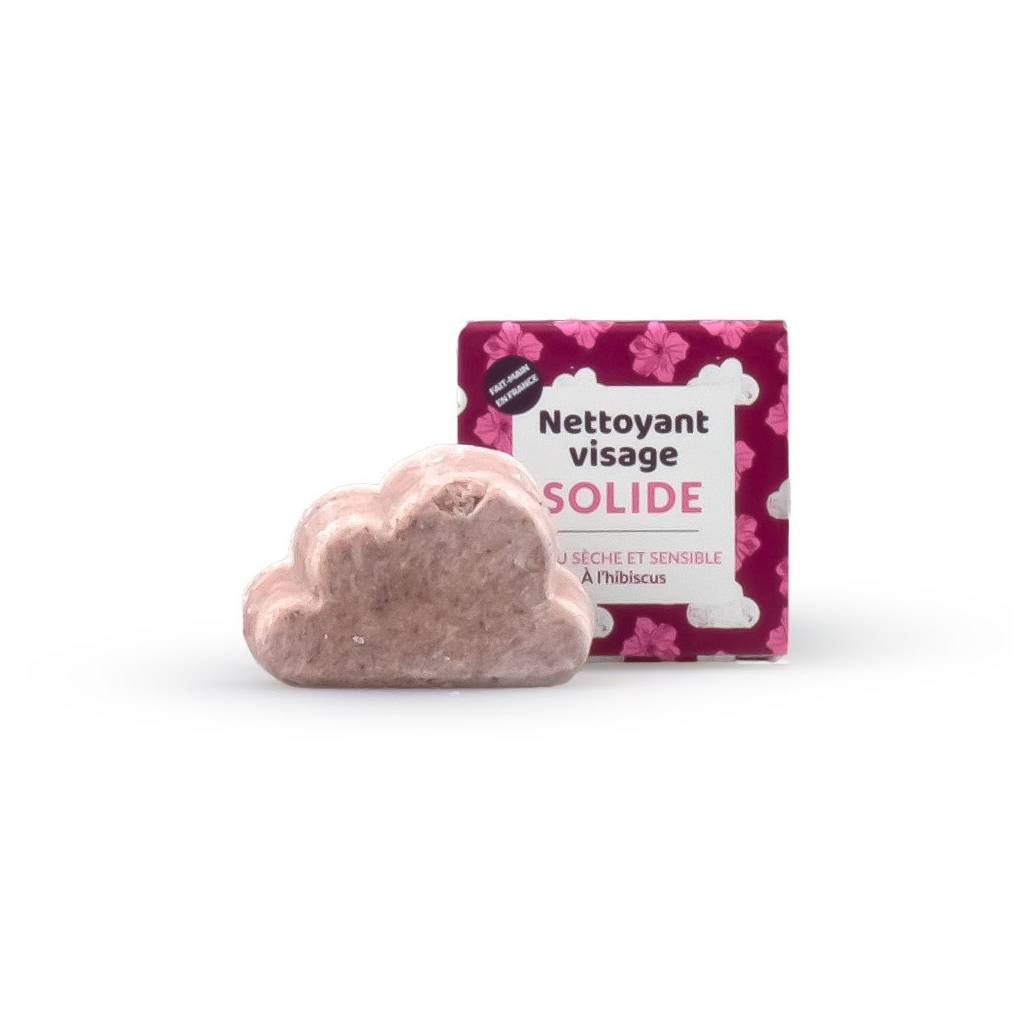  
The small + product :
Zero waste objective
Lasts 4 months for 1 use per day

Face cleanser for dry and sensitive skin
From : Lamazuna
Solid facial cleanser for dry and sensitive skin
This solid cleanser is suitable for dry and sensitive skin. It will moisturize your skin gently. Hibiscus powder moisturizes, oatmeal cleans and helps reduce redness, and arnica montana flower extract soothes and calms.

How to use it?
Morning and/or evening, rub this little wet cloud on moistened skin to create a fine, creamy lather. Then, massage your face and rinse thoroughly with clean water.

Storage advice:
To ensure a long life for your solid cleanser, do not leave it in standing water. Store it on a soap dish or in a storage jar.
Over time and in contact with the sun, this product will brown and/or whiten. Don't worry, it's not mold and that doesn't take away from its effectiveness and the quality of the ingredients.

Precautions for use:
This cleanser is not recommended for pregnant and breastfeeding women and children under 3 years old. Be careful, this little cloud is not to be chewed. Do not use if allergic to any of the ingredients. Avoid contact with eyes and mucous membranes.
PAO (Period After Opening): 12 months.

Focus on the ingredients:
Water (Aqua): makes it easier to mix the ingredients
Sodium cocoyl isethionate: surfactant derived from coconut oil, which gives a soft and creamy foam
Stearic acid / Palmitic acid: these are waxy products used as thickening agents, which are found naturally in vegetable oils. Contrary to what its name suggests, palmitic acid does not come from palm oil. These two ingredients come from olive oil
Coconut oil (Cocos nucifera oil): used for its nourishing action
Oatmeal (Avena sativa kernel flour): helps cleanse the skin while giving it a soft effect. It is suitable for skin prone to redness
Hibiscus powder (Hibiscus sabdariffa flower powder): with its pretty purple color, it supports hydration and softens the skin. Rich in polyphenols, it adapts perfectly to sensitive and mature skin
Tocopherol / Sunflower oil (Tocopherol / Helianthus annuus seed oil): antioxidant of vegetable origin (Vitamin E) which prevents the oxidation of vegetable oils and essential oils, diluted in sunflower oil to ease of use
Decyl glucoside: mild surfactant from coconut. It cleans and lathers
Essential oil of Lavandin (Lavandula hybrida oil): used for its antiseptic, purifying and restorative properties
Arnica Montana flower extract / Sunflower oil (Arnica montana flower extract / helianthus annuus seed oil): with soothing and calming properties, macerated in sunflower oil
Geraniol, limonene, linalool: naturally present in essential oils.
INCI list of ingredients: SODIUM COCOYL ISETHIONATE, STEARIC ACID**, PALMITIC ACID**, COCOS NUCIFERA OIL*, AVENA KERNEL FLOUR*, AQUA, HIBISCUS SABDARIFFA FLOWER POWDER*, HELIANTHUS ANNUUS SEED OIL**, DECYL GLUCOSIDE, LAVANDULA HYBRIDA OIL*, ARNICA MONTANA FLOWER EXTRACT*, TOCOPHEROL**, GERANIOL***, LIMONENE***, LINALOOL***.
*Ingredients from organic farming and of natural origin
**Natural ingredients
***Naturally present in essential oils
Capacity: 27ml

My contribution for the planet:
The solid cleanser from Lamazuna replaces your usual liquid face cleanser and avoids a lot of waste.
It is zero waste: the packaging is made of recyclable cardboard and once your cleaner is finished, it leaves no waste.
Data sheet
Product

Zero Waste Hygiene

Vegan

Yes
Do you want more informations ?
Customers who bought this product also bought:
4 other products in the same category: