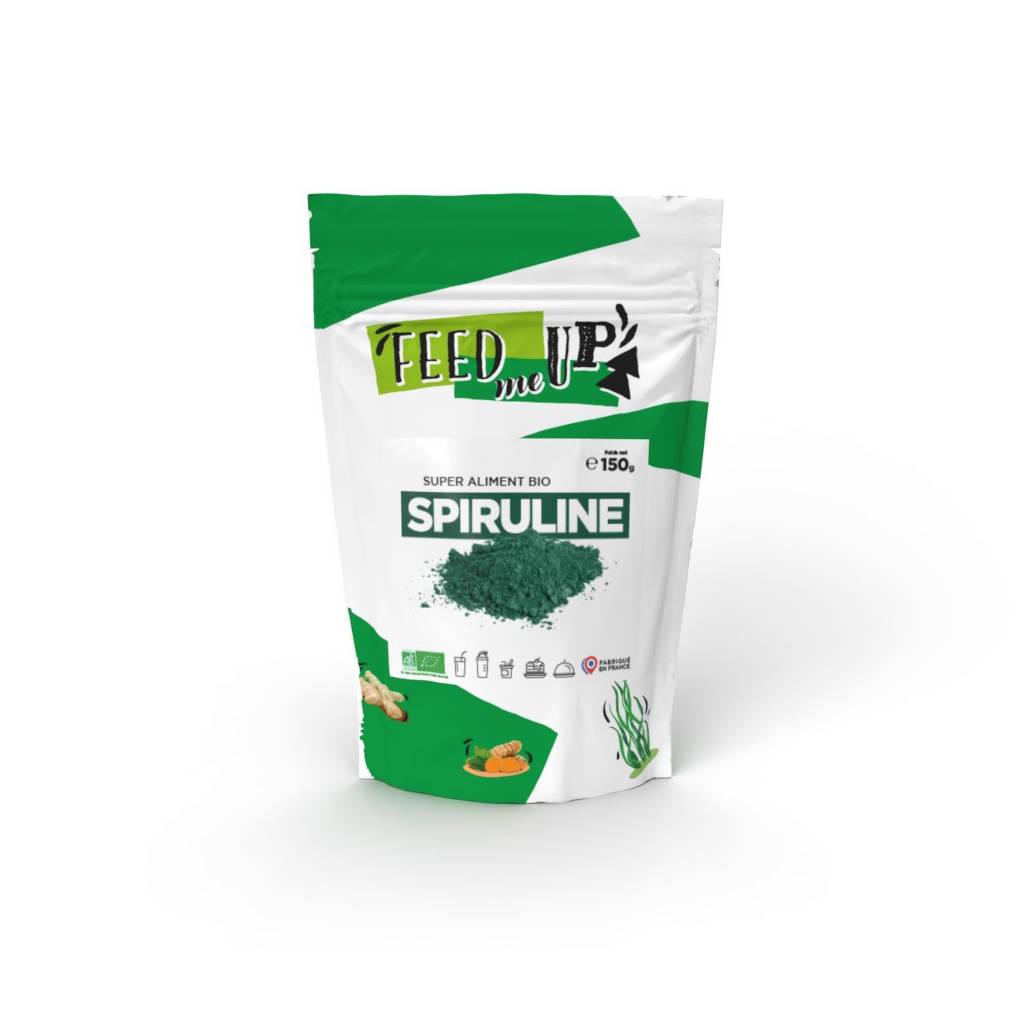  
The small + prodcuts :
Allergen free
Recyclable bag

Organic spirulina powder - 150gr
From : Feed Me Up
Average Nutritional Values ​​per 100g

| | |
| --- | --- |
| Energetic Value | 336 Kcal / 1420 KJ |
| Fats | 1 g |
| of which saturates | 0,5 g |
| Carbohydrates | 13,1 g |
| with sugar | <0,1 g |
| Proteins | 65,9 g |
| Fibers | 5,1 g |
| Salt | 0,9 g |
| Vitamin K | 105 µg |
| Iron | 30 mg |
| Calcium | 120 mg |
| Magnesium | 260 mg |
| Folic Acid | 200 µg |
| Potassium | 1500 mg |
| Copper | 0,4 mg |
| Manganese | 3 mg |
| Selenium | 300 µg |
| Chromium | 100 µg |
Organic spirulina powder
Spirulina is a microalgae belonging to the family of cyanobacteria or blue-green algae. These benefits are no longer to be proven, it is a natural source of protein, which contributes to the maintenance and increase of muscle mass. This is why it is very popular with athletes! As you can see from the nutritional information opposite, it is also rich in Iron, Manganese and Copper.
Iron helps reduce fatigue, as well as the normal functioning of the immune system, just like copper.

Composition:
100% Spirulina*
*From organic farming.

Contributions of Spirulina:
Rich in Iron, Potassium, Magnesium, Copper, Manganese, Selenium and Chromium
Rich in Folic Acid (Vitamin B9)
Rich in Protein and Vitamin K
Source of Fiber

Benefits of Spirulina:
Iron and Magnesium help reduce fatigue
Folic Acid contributes to the normal functioning of the nervous system and the immune system
Iron, Manganese and Copper contribute to normal energy metabolism
Proteins contribute to the increase and maintenance of muscle mass
Vitamin K contributes to normal blood clotting and the maintenance of normal bones
Potassium contributes to the maintenance of normal blood pressure and the normal functioning of the nervous system
Copper and Selenium contribute to the normal functioning of the immune system and protect cells against oxidative stress

Tasting advice:
We advise you to mix 1 to 2 teaspoons of Spirulina in a drink, smoothie, yogurt or even in a dish or dessert.






Storage advice:
Keep away from heat and humidity.
Close the bag tightly after use.

My contribution for the planet:
This Doypack bag is made of paper, aluminum and polyethylene (PE).
This packaging is therefore recyclable, you can put it in your recyclable bin with plastic and cardboard.
The labels should be thrown in the trash.
Data sheet
Conditioning

150g

Biological origin

Oui

Type of closure

Zip

Emballage

Sachet Recyclable

Product

Superaliment

Vegan

Yes
Do you want more informations ?
Customers who bought this product also bought:
4 other products in the same category: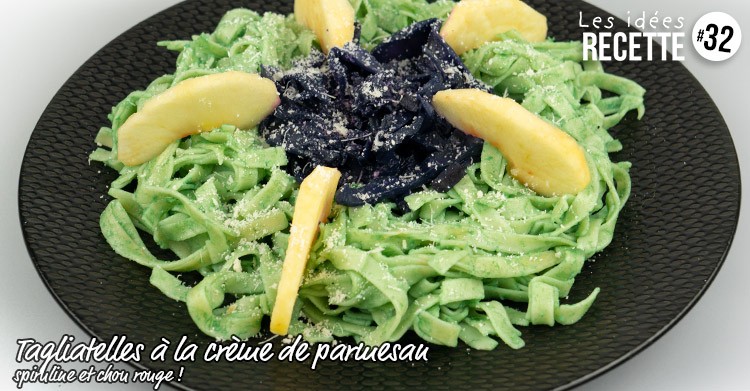 . In short: Difficulty: Easy Cost: Economic Servings: 4 people Material : 2 pots Knife Cutting board He was Time : Preparation: 30 mi
Read more