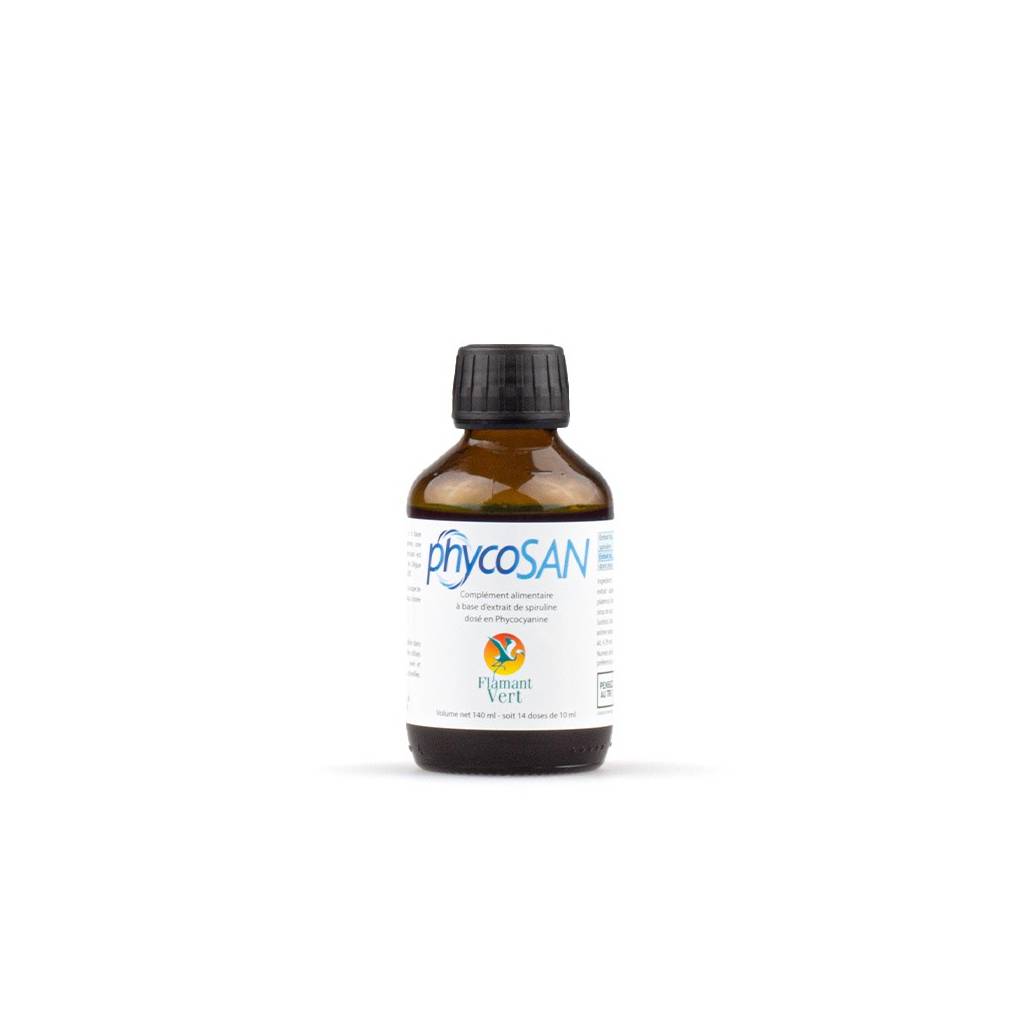  
The small + product :
Very easy to ingest.
Ideal for athletes.

Blue Liquid Spirulina
From : Flamant Vert
Bottle of protein-rich sweet spirulina extract, ideal for sports.
140ml (i.e. 14 doses of 10ml).

Liquid Spirulina
Phycosan is a dietary supplement based on liquid spirulina dosed with phycocyanin (a blue pigmented protein). Rich in sugar with a high glycemic index, which makes it a perfect dietary supplement for athletes, to be taken during exercise.
Well-known superfood that is said to have many benefits. Spirulina is very rich in vegetable proteins. It is antioxidant, immuno-stimulant and contains many so-called "essential" amino acids. At the rate of a few grams of protein for 5 grams of spirulina, it is considered a "food supplement" (We need 60 to 70 grams per day).
Rich in protein, it will provide everything your body needs for the effort that you can combine with a healthy lifestyle and healthy and balanced meals!
Phycosan is a liquid preparation obtained from Flamant Vert spirulina. Its preservation is ensured thanks to natural preservatives (sugars, alcohol and rosemary extract).

Composition:
aqueous extract of spirulina dosed with phycocyanin (40mg per 10ml dose), sucrose, invert sugar syrup, ethanol, stabilizer: sorbitol 2.5%, antioxidant: rosemary extract (E292) 0.3%, natural flavor orange.
alc. 4.3% vol.

Contributions of liquid Spirulina:
Spirulina is low in calories and contains: proteins, vitamins, minerals, trace elements, essential fatty acids and antioxidants (phycocyanin).
It will therefore contribute to the normal functioning of the immune system and will also help to reduce fatigue.

Advice for use:
Mix a tablespoon of Phycosan (about 10ml) in half a glass of water. Drink 1 to 2 times a day.
One tablespoon of Phycosan contains 40mg of phycocyanin.
Food supplements should be used as part of a healthy lifestyle and not be used as substitutes for a varied and balanced diet.

Precautions for use:
Do not exceed the recommended daily dose.
Keep out of the reach of children.

Storage advice:
Keep away from heat.
After opening, store in the refrigerator.
Data sheet
Product

Food supplements