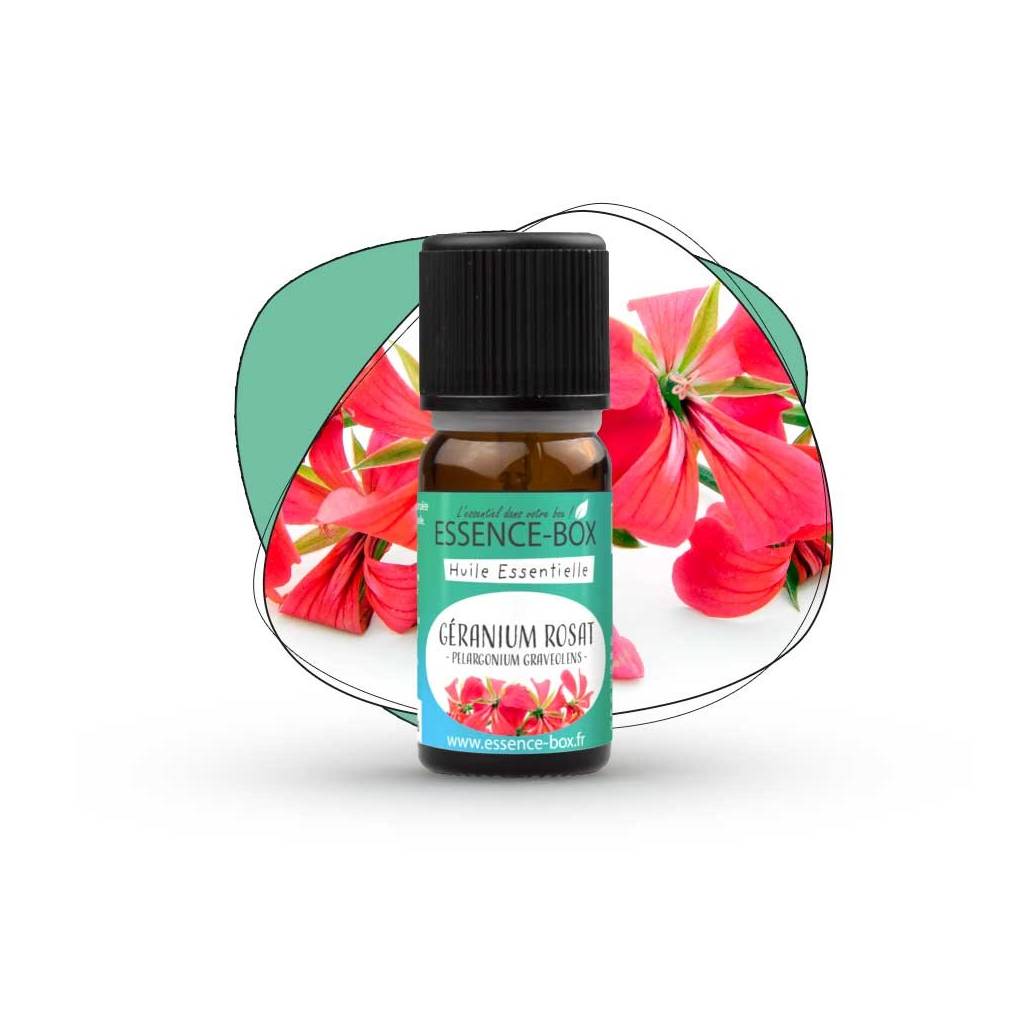  
The small + product :
Practical format with its dropper system.
Premium quality essential oil.




Botanical name:

pelargonium graveolens L.
Part of the plant used:

Leaves and stems
Origin:

Egypt
Chemotype:

Citronellol, geraniol, linalool

Culture:

Organic farming

Method of extraction:

Steam distillation
Geranium Rosat ORGANIC essential oil.
A bit of culture:
Geranium Rosat is an aromatic perennial shrub that comes from the Geraniaceae family. It was imported from South Africa in the 1600s. In the 19th century, perfumers sought a rose-smelling essential oil because by this time the Levant rose was becoming rare, and the price of its essential oil had become excessive. . The cultivation of rose geranium therefore began in the Grasse region. It is a plant that unfortunately does not like frost and therefore crops do not give much. As a result, producers very quickly sought other climates more suitable for the plant. This is how rose geranium crops were born in Algeria, Morocco and Reunion.
Today, this plant is grown all over the world: China, Africa, Madagascar.
Its essential oil (EO) is extracted from the leaves by steam distillation. Namely that 100kg of flowers will give between 150 and 200g of Geranium essence.

Composition:
100% Geranium Rosat Essential Oil*
*From organic farming

Quality Data:
Smell: characteristic, floral, green, spicy, dewy
Appearance: liquid
Colour: pale yellow to pale green brown
Flash point: 85°C
Density: 0.889

Possible ways of use:
Skin contact :

To be diluted at 20% in vegetable oil

Ingestion :

To be diluted on a neutral support (honey, vegetable oil, neutral tablet)

Diffusion :

Possible route for babies and pregnant women

Inhale :

Precautions for use:
Keep out of the reach of children. Do not use in pregnant and breastfeeding women. Do not use in children under 3 years old. For people with epilepsy and asthma, please ask your doctor for advice.
Geranium Rosat HE is irritating to the skin, so it must always be diluted for skin application. Due to its concentration of citronellol, linalool and geraniol, this essential oil is allergenic. It is therefore preferable to test it before using it (1 to 2 drops in the bend of the elbow and wait 24 hours for there to be no reaction).

Storage advice:
Keep essential oils in a dry, cool place, away from light. Make sure the bottle is always tightly closed.
Data sheet
Conditioning

10ml

Flaconage

Verre

Opening

Compte-goutte

Type of closure

Bouchon

Child Safety

Oui

Product

Essential oil
Do you want more informations ?
Customers who bought this product also bought:
4 other products in the same category: