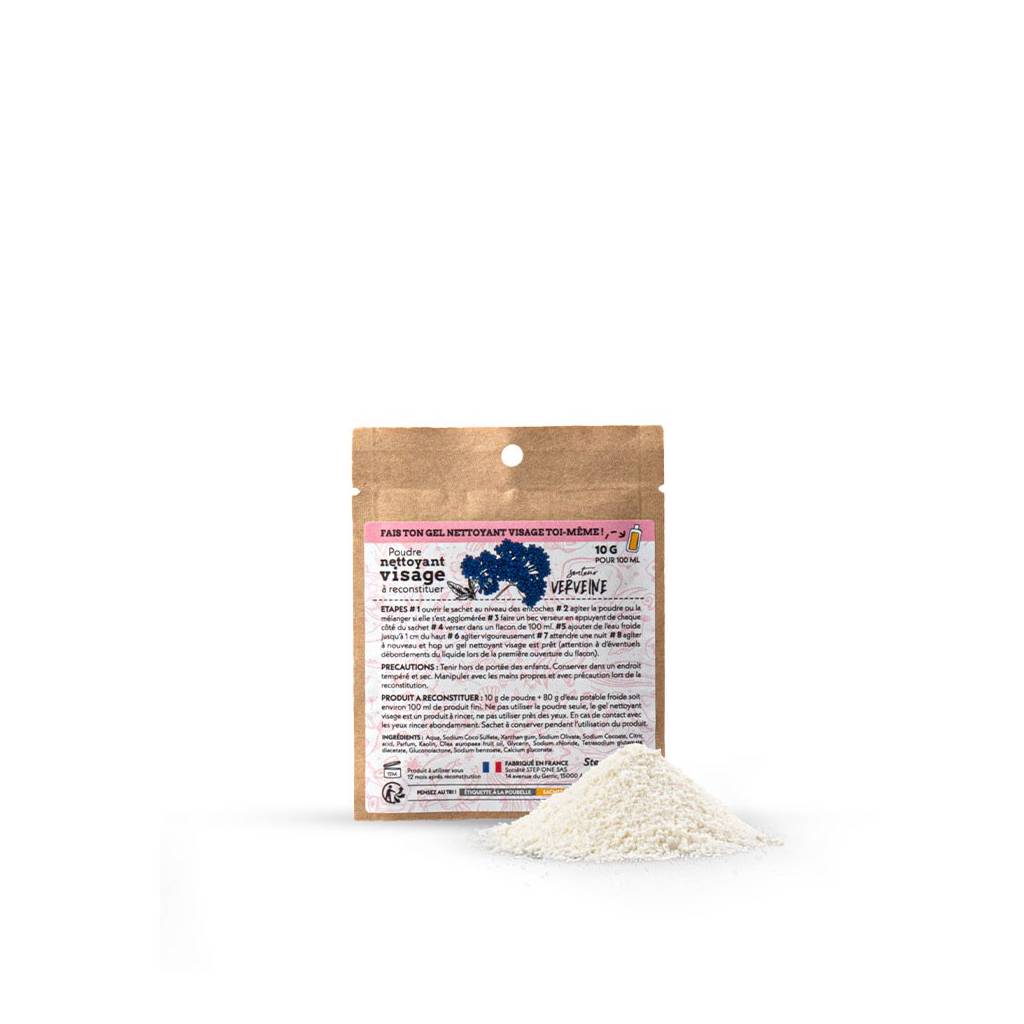  
The small + product :

Face Cleanser Refill 100ml
From : Step-one
Refill to replenish 100ml of facial cleanser.
Note Yuka : 100/100

Face Cleanser Refill
This refill will allow you to replenish 100ml of verbena-scented face wash.

How to make face cleansing gel?
10gr of powder + 80gr of cold drinking water = 100ml of finished product.
Pour the entire dose of powder into a 100ml bottle
Add cold drinking water up to 1cm from the top edge (depending on the water quality, the product foams more or less during use)
Shake well
Wait overnight before use
Shake vigorously again. During the first uses, we advise you to shake the bottle well (the gel must be white and not transparent)
The gel is ready to use. Caution, do not use too close to the eyes.
This face cleansing gel foams very little because it does not contain foaming agents, but it cleans just as effectively.

Composition of the reconstituted product:
Aqua, Sodium coco sulfate, Xanthan gum, Sodium olivate, Sodium cocoate, Citric acid, Parfum, Kaolin, Olea europaea fruit oil, Glycerin, Sodium chloride, Tetrasodium glutamate diacetate, Gluconolactone, Sodium benzoate, Calcium gluconate.
>
99% of the ingredients are natural.

Storage advice:
The powder should be stored in a cool, dry place.
Use within 12 months after reconstitution.

Precautions for use:
Do not use powder alone. Handle with clean hands and with care when reconstituting.
Keep out of the reach of children.
The facial cleansing gel is a rinse-off product, do not use near the eyes. In case of contact with eyes, rinse thoroughly.

My contribution for the planet:
This refill is a healthy and ecological product. No bottle thrown away, no water transported.
The bag is to be recycled or composted. The label should be thrown in the trash.
Data sheet
Product

Zero Waste Hygiene
Do you want more informations ?
Customers who bought this product also bought:
4 other products in the same category: