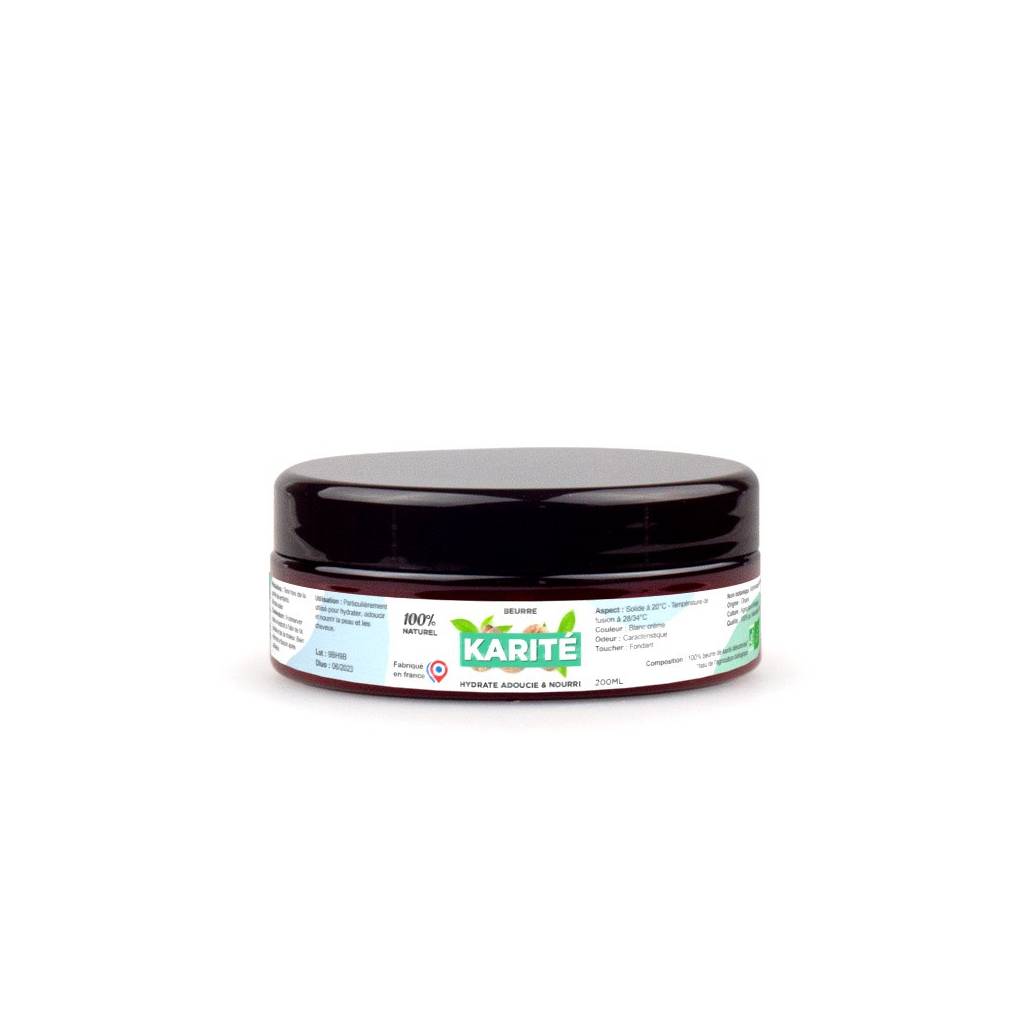  
Organic Shea Butter 200ml
From : Essence Box
Organic Deodorized Shea Butter.
Our butters are hand-filled, so the texture on top won't be quite smooth.




Botanical name:

Butyrospermum parkii
Part extracted:

Almond
Origin:

Ghana
Botanical family:

Sapotaceae
Quality:

100% pure and natural, virgin

Culture:

Organic farming

Method of obtaining:

Traditional manual extraction
Raw Organic Virgin Shea Butter
Shea butter has many nourishing and restorative properties, it will find its place in the bathroom with your beauty products. Particularly used to moisturize, soften and nourish skin and hair. Often known for its capillary properties, it is very often also used on the skin.
A bit of culture:
Extracted from the nut of the shea tree, this butter is very present in African traditions. Also called "Women's Gold", because all the stages: from the harvest of the fruits to the extraction of the shea tree, are carried out by 16 million African women.

Composition:
100% deodorized shea butter*
*From organic farming

Standard fatty acid composition:
Palmitic Acid (C16:0): 3.2%
Stearic Acid (C18:0): 43.1%
Oleic Acid (C18:1): 45%
Linoleic Acid (C18:2): 6%
Arachidic Acid (C20:0): 1.5%

Organoleptic Properties:
Appearance: solid at 20°C - Melting temperature at 28/34°C
Colour: cream white
Odor: characteristic
Touch: melting

Properties:
Nourishing
Soothing
Healing and restorative
Softener
Helps regenerate the skin after sun exposure.

Uses:
Mainly used for dry, dehydrated and damaged skin.
It will restore shine to your hair.

Precautions for use:
Keep out of the reach of children. Non-food use, do not swallow.

Storage advice:
Store in a dry place, away from light and heat. Close the jar well after use.
Data sheet
Flaconage

PET

Product

Butter
Customers who bought this product also bought:
3 other products in the same category: