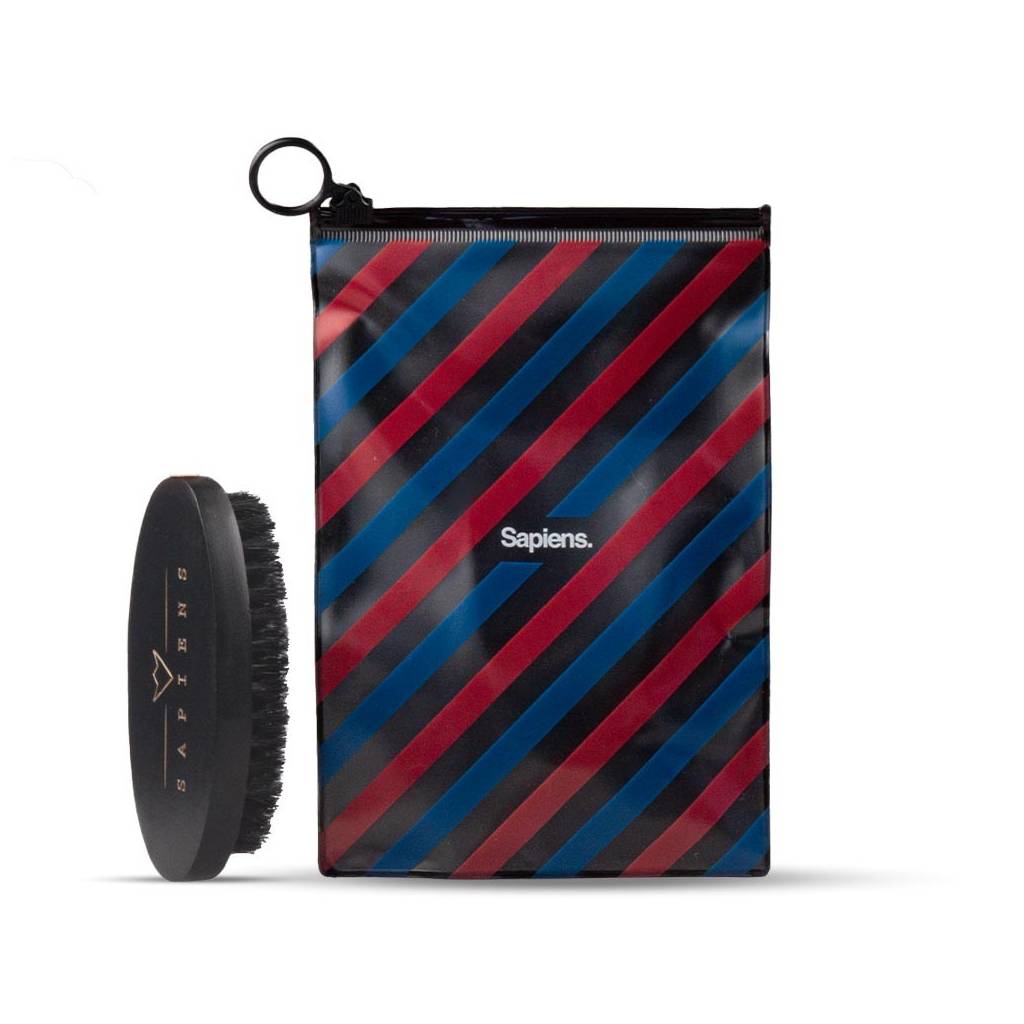  
Beard brush
From : Sapiens
This boar bristle brush will be your ally for a silky beard.
Take care : End of the promotion on January 31, 2023!
Beard Brush
This brush helps smooth your beard and straighten your hair. Use it daily and you will succeed in taming your rebellious hairs.
These bristles are exclusively made of boar bristle to evenly distribute sebum and your beard oil from root to tip.
In addition, it will give you a pleasant massage!
Regular use of this brush helps to prevent itching and avoid dry skin and thus maintain a very soft beard. It also exfoliates the skin below your beard.

Advice for use:
Make sure your beard is dry to avoid any risk of hair breakage
Brush your beard in the direction of the hair. You can also apply your beard oil before brushing to distribute it evenly
Brush your beard whenever you want throughout the day
We recommend daily brushing: one minute a day will allow you to have a healthy beard
How to clean my beard brush ? :
You use your beard brush regularly and over time dirt accumulates, dead hair, dust, etc. and you are certainly wondering how to clean your beard brush and make it look as good as the first day.
Removing dead hairs: We roughen the cleaning by removing the bulk of the dead hairs. You can start by hand, just pull it from the root to the top of the hair. Then you can use a comb to perform the same movement. The ideal being to obtain a brush as clean as possible. The advantage of the comb is that it will pick up the worst of the dirt and will in turn be easily cleaned.
We move on to the dust: Once most of the dirt has been eradicated, there should only be dust and small pieces of dead hair. It is at this stage that you can use a second brush to clean your favorite beard brush. Indeed, now that the biggest is done, there is no longer any risk of passing the bristles from one brush to another. Small dust and pieces of dead hair should easily end up on the head of the second and be easily cleaned.
Basic treatment: It's time for the final step! Now that we have cleaned the hair, dust and residues of dead skin and hair, we will move on to the bacterial stage! To disinfect and degrease your brush, you can soak it in hot water with a little soap (be careful not too much, if the water is hot, it will damage the bristles of your beard brush). Optional: Add a few drops of Tea Tree essential oil, 3 or 4 drops should be enough to deeply purify your brush. After 5 minutes of soaking, we take it out, we dry it (in the open air, the hair dryer is to be avoided) and here we go again!

The benefits:
Detangles the hair
Smooth the beard
Softens the beard
Exfoliates the skin
Boosts circulation
Spreads beard oil
Data sheet
Product

Accessory
Customers who bought this product also bought:
4 other products in the same category: