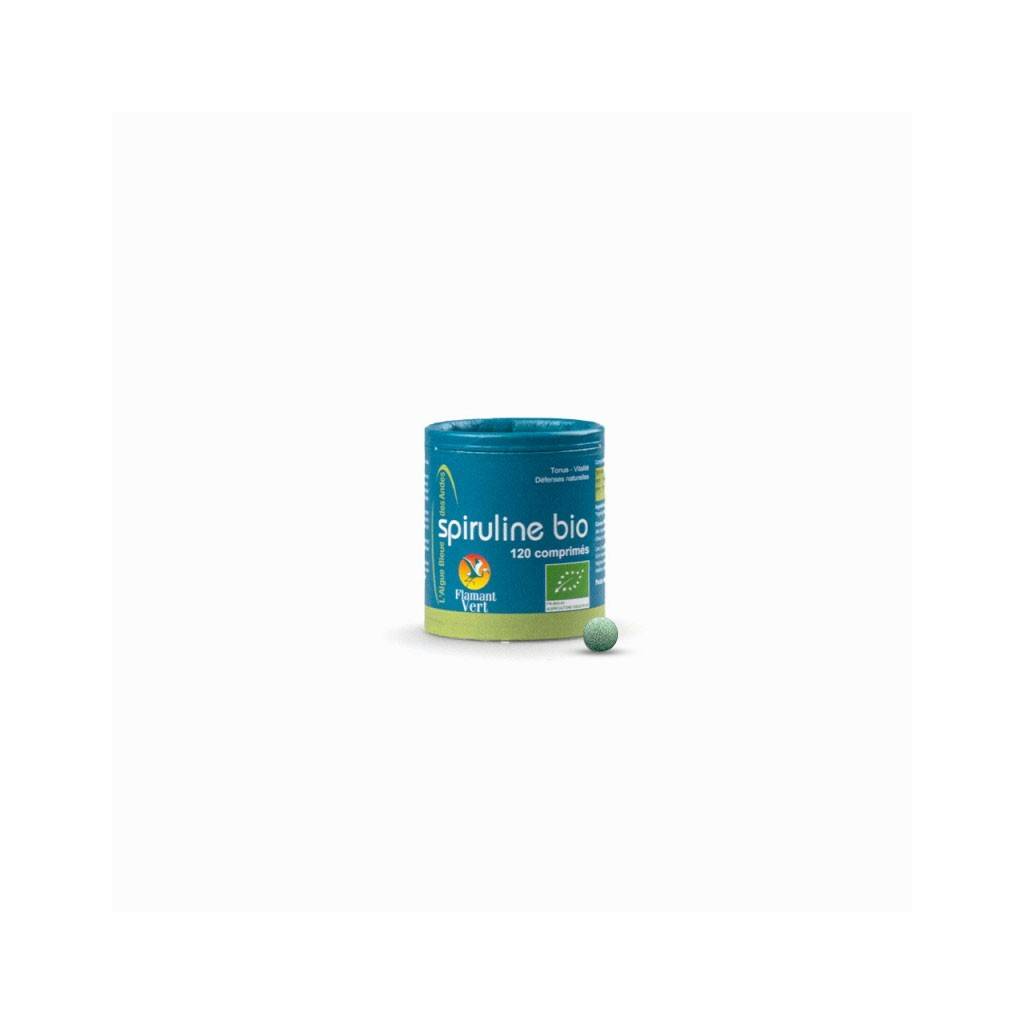  
The small + product :
No more seaweed taste, it is easy to ingest!
ORGANIC and rich in protein.

Spirulina in tablets (120 tablets) - Short Date
From : Flamant Vert
Andean blue algae. Spirulina in tablets has many benefits, especially for the thyroid and against cholesterol.
DLUO : 03/23
Average Nutritional Values ​​per 100g

| | |
| --- | --- |
| Energetic value | 365,6 Kcal / 1540 Kj |
| Fats | 6,7 g |
| Carbohydrates | 2,9 g |
| Proteins | 67,9 g |
| Fibers | 10,9 g |
| Iron | 83,6 mg |

Net weight : 60gr
Organic Spirulina Flamant vert
Spirulina is a well-known superfood that is said to have many benefits. In reality, spirulina includes several types of soft algae, generally very rich in vegetable proteins. It is antioxidant, immuno-stimulant and contains many so-called "essential" amino acids. At the rate of several grams of protein for 5 grams of spirulina, it is considered a "food supplement" (We need 60 to 70 grams per day).
The boxed Flamingo BIO spirulina contains 120 capsules of 500 mg of Spirulina (for a consumption of 1 month at the rate of 6 tablets per day), this makes it an excellent source of protein in addition to a varied and balanced diet. Its main pigment, phycocyanin, would help stimulate the immune system and play a role in protecting against the virus as well as cancer cells. In Nagasaki, it was also used as part of the anti-radiation treatment which consisted of brown rice, miso, wakame, kombu and (you guessed it) spirulina.
It would therefore be a great help for our natural defenses but it is an integral part of vegetarian diets because of its high protein content. As the nutritional information opposite shows, it is particularly rich in protein, it is also sometimes called "the steak of the sea" because it contains more protein than soy, for example.
As you will have understood, spirulina is a widely used superfood, which you can take in addition to a healthy lifestyle and healthy and balanced meals!
Spirulina in all these forms:
We also offer spirulina in other forms. If you are not a fan of tablets, you can turn to our Spirulina powder FEED ME UP, it is ideal to be mixed in your dishes, desserts or smoothies. You can also turn to our FLAMANT VERT liquid spirulina, it is easily ingested thanks to its little orange taste. In addition, it is reinforced with phycocyanin.

Composition :
100% Spirulina* (spirulina platensis)
*From organic farming.

Benefits of Spirulina :
Spirulina is low in calories and contains: proteins, vitamins, minerals, trace elements, essential fatty acids and antioxidants (phycocyanin).
It therefore contributes to the normal functioning of the immune system and also helps to reduce fatigue.

Using advice :
Take up to 6 tablets daily before or during meals with a little water or fruit juice.
Food supplements should be used as part of a healthy lifestyle and not be used as substitutes for a varied and balanced diet.

Précautions d'emploi :
Do not exceed the recommended daily dose.
Keep out of the reach of children.

Conservation advice :
Store away from heat, light and humidity.
Store in its original packaging.

My contribution for the planet :
These tablets are packaged in an ECOCAN box, an opaque, airtight, light and recyclable packaging in the cardboard industry.
Data sheet
Biological origin

Oui

Product

Food supplements
Do you want more informations ?
Customers who bought this product also bought:
4 other products in the same category: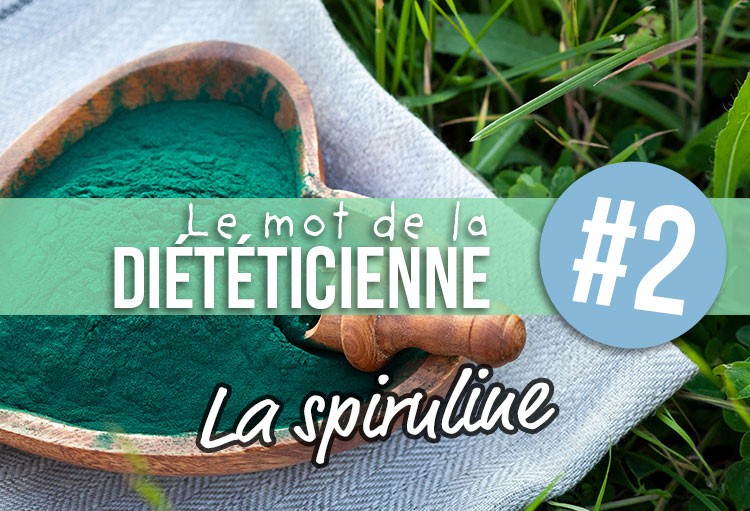 . Contents About spirulina Why choose to consume spirulina? Proteins and spirulina Lipids, carbohydrates and spirulina Overview of vitamins, minerals, t
Read more