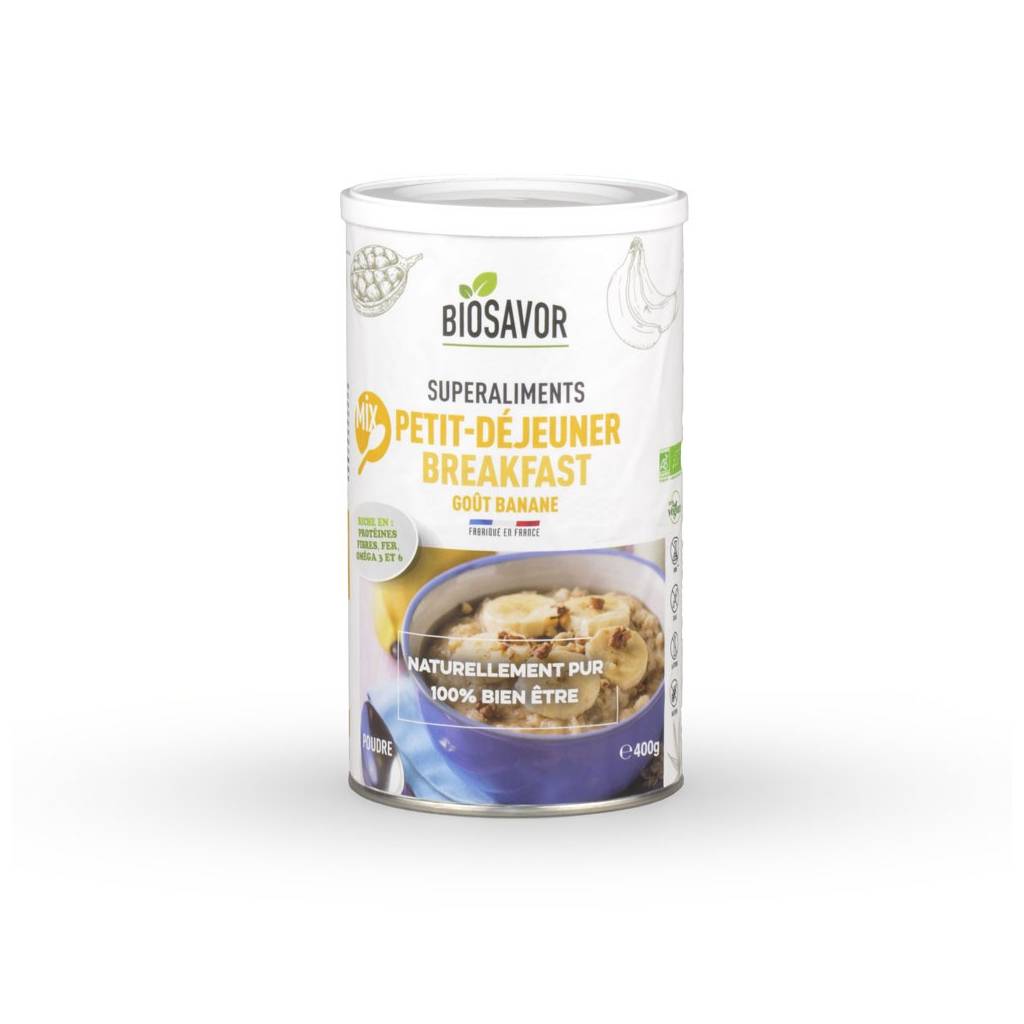  
The small + product :

Banana Flavor Breakfast Mix - 400gr
From : Biosavor
Source of iron, omega 3 and protein, this mixture specially designed to start the day off right with a banana flavor can be mixed with your oatmeal bottles, your vegetable milk and some fruits.
Note Yuka : 94/100.
Average Nutritional Values ​​per 100g

| | |
| --- | --- |
| Energetic Value | 413 Kcal / 1731 KJ |
| Fats | 13,8 g |
| of which saturates | 1,59 g |
| Carbohydrates | 51,5 g |
| with sugar | 16,5 g |
| Proteins | 14,5 g |
| Fibers | 9,9 g |
| Salt | 0,15 g |
| Omega-3 | 5,35 g |
| Calcium | 470 mg |
| Potassium | 174,2 mg |
| Iron | 2,3 mg |
Banana Flavor Breakfast Mix
This Breakfast Mix is ​​ideal for a healthy start to the day. Composed of banana, hemp, flax, baobab, it is the ideal mixture to start the day off right. BIOSAVOR's special banana-flavoured breakfast mix is ​​a mix of superfoods to be used mixed in other foods, such as your oatmeal.
Recipe example:
25 cl of milk
75g flasks of oats
1 tablespoon of BIOSAVOR banana flavored breakfast mix
A few seasonal fruits or seeds on top

Composition:
Flax flour powder*, hemp powder*, banana powder*, pea protein powder*, baobab powder*, coconut sugar*, buckwheat flour*, lithothamne.
*From organic farming. Certified by FR-BIO-09.

Contributions of Banana Breakfast Mix:
High in Fiber and Calcium
Source of Protein, Iron and Omega-3

Benefits of Banana Breakfast Mix:
Calcium and Iron contribute to normal energy metabolism
Calcium contributes to normal muscle function
Calcium contributes to the maintenance of normal bones
Iron contributes to normal cognitive function
Iron contributes to the transport of oxygen in the body
Iron contributes to the normal functioning of the immune system and to reducing fatigue
Proteins help increase and maintain muscle mass
Easy to digest

Tasting advice:
We advise you to mix 2 to 3 teaspoons of Banana Flavored Breakfast Mix in a vegetable drink, a dairy product, a smoothie or to incorporate it into a dessert.





Storage advice:
Keep away from heat and humidity.
Close the bag tightly after use.
Data sheet
Biological origin

Oui

Product

Superaliment

Vegan

Yes
Specific References
EAN13

3760279860800
Do you want more informations ?
4 other products in the same category: