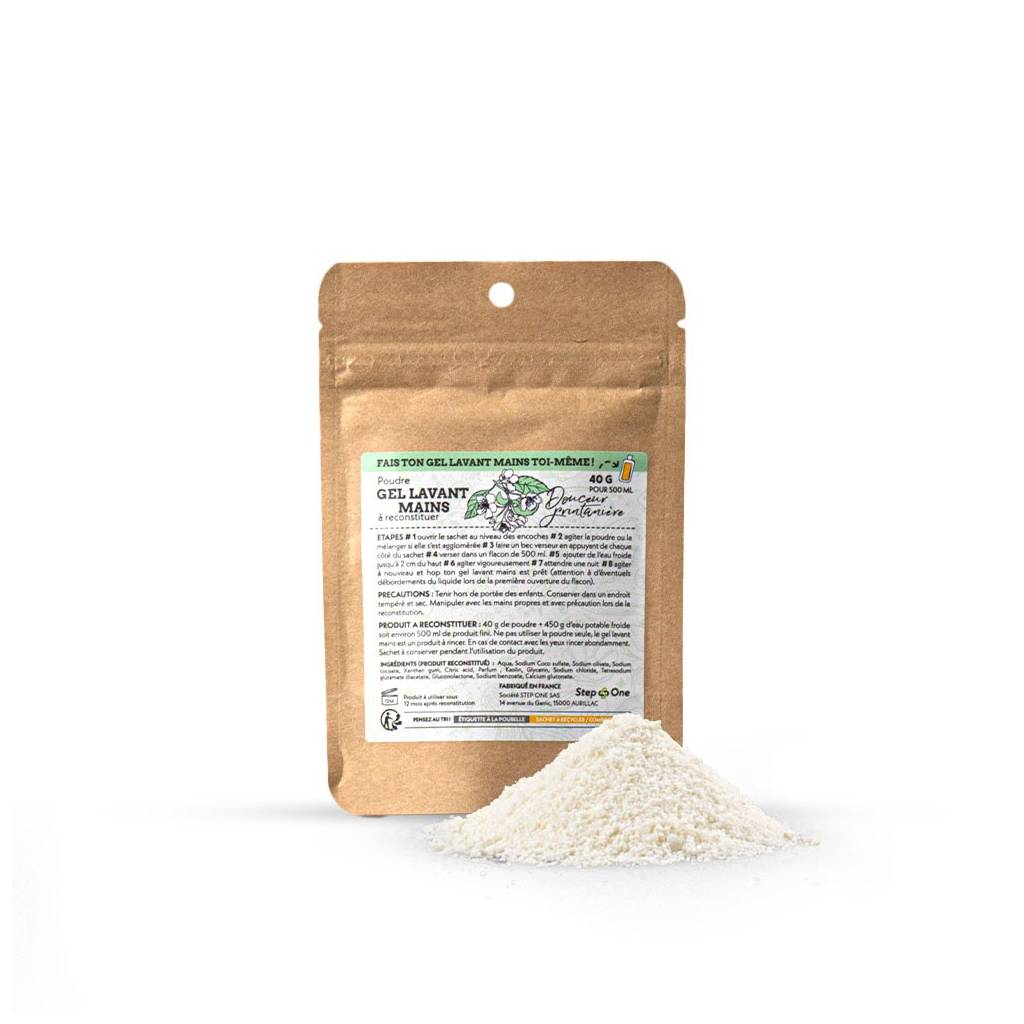  
The small + product :
99% natural ingredients
Zero waste objective

Hand Cleansing Gel Refill
From : Step-one
Refill for hand washing gel 500ml to be reconstituted.
Note Yuka : 100/100

Hand Wash Powder to be reconstituted
This refill allows you to replenish 500ml of hand wash gel.

How to make your hand washing gel?
40gr of powder + fill the bottle with water = 500ml of ready-to-use cleansing gel.
Open the bag at the notches
Shake powder or stir if clumped
Pour your 40g sachet of powdered cleansing gel into a 500ml bottle.
Fill up with cold drinking water up to 2cm from the edge.
Screw on the cap and shake.
Wait 24 hours, the cleansing gel should be white, if it is transparent, shake again.
Screw on the pump.
Enjoy!
This hand washing gel foams very little because it does not contain foaming agents but it cleans just as much.
Once your bottle is finished, wash it and start again.

Composition of the reconstituted product:
Aqua, Sodium coco sulfate, Sodium olivate, Sodium cocoate, Xanthan gum, Citric acid, Perfume, Kaolin, Glycerin, Sodium chloride, Tetrasodium glutamate diacetate, Gluconolactone, Sodium benzoate, Calcium gluconate.

Storage advice:
Once mixed, the cleansing gel should be used within 12 months.

Precautions for use:
Powder: Keep out of reach of children. Store in a cool, dry place. Handle with clean hands and with care when reconstituting.
Hand wash gel: Do not use the powder alone, the reconstituted hand wash gel is a rinse-off product. In case of contact with eyes rinse thoroughly.

My contribution for the planet:
This box is a healthy, ecological and supportive product. No bottle thrown away, no water transported.
The boxes are assembled in ESAT by staff with disabilities.
The bag is recyclable or compostable. The label should be thrown in the trash.
Data sheet
Product

Zero Waste Hygiene
Do you want more informations ?
Customers who bought this product also bought:
4 other products in the same category: